This is the first of several posts about upgrading an RV power system for better off-grid use.
---
RVs operate primarily off a 12V DC, battery-backed system. When on shore power, this is energized by an AC-DC converter. When not, it's the batteries that power it.
Batteries are not included by the manufacturer. Instead, like the propane tanks, it's something the dealer outfits the trailer with at the time of sale, and they virtually always choose the cheapest product they can get away with. Ours came with two 12V 60 Ah batteries more suited for use in a speedboat than an RV. With just the parasitic load1 of the trailer, they can't even provide energy for a week, effectively tying us to shore power or the generator.
If the included battery capacity wasn't bad enough, with flooded lead acid (FLA) batteries, you can only use 50% of that capacity if you want them to last any reasonable amount of time. Repeatedly draining a FLA battery is very bad for its lifespan, so it's important to factor that in when estimating capacity needs — just watching a two-hour movie would use close to half of the available capacity in the dealer-supplied batteries. I'm hoping to get five years out of these, but I don't have enough experience to know whether that's realistic or not.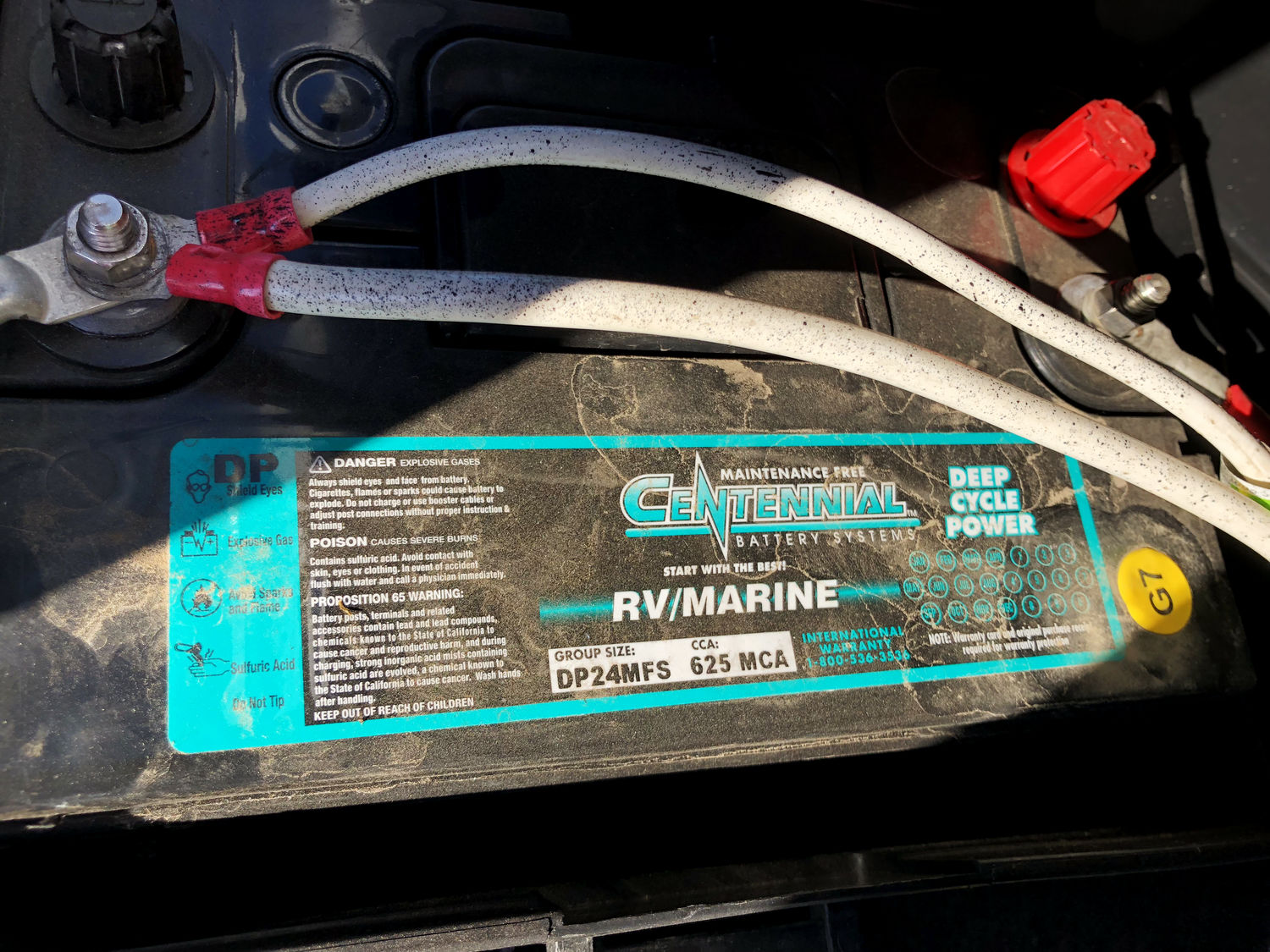 Choosing Batteries
The current rage in RV power are lithium batteries, specifically LiFePO4. Their power density is vastly more than FLA, they can (and should) by kept inside the trailer, they're lighter, and they're much quicker to charge. That said, I'm not ready to shell out for a bank of lithium batteries yet, though I feel the day where those are equivalent in overall cost to FLA is not far away. While I did a bit of research into those, I always came back to FLA due to system cost: for equivalent usable capacities, lithium was 5-6 times as much as FLA. Increased cycle life reduces that somewhat but not enough to be worth it to me yet.
I ultimately settled on four Trojan T-105 GC-2 batteries for a total capacity of 450 Ah. These are 6V golf cart batteries with a true deep cycle build, and more recent revisions appear to only have improved that. Since my plan was to power an inverter, I also chose to upgrade the interconnects at this time to 4/0 AWG copper wire.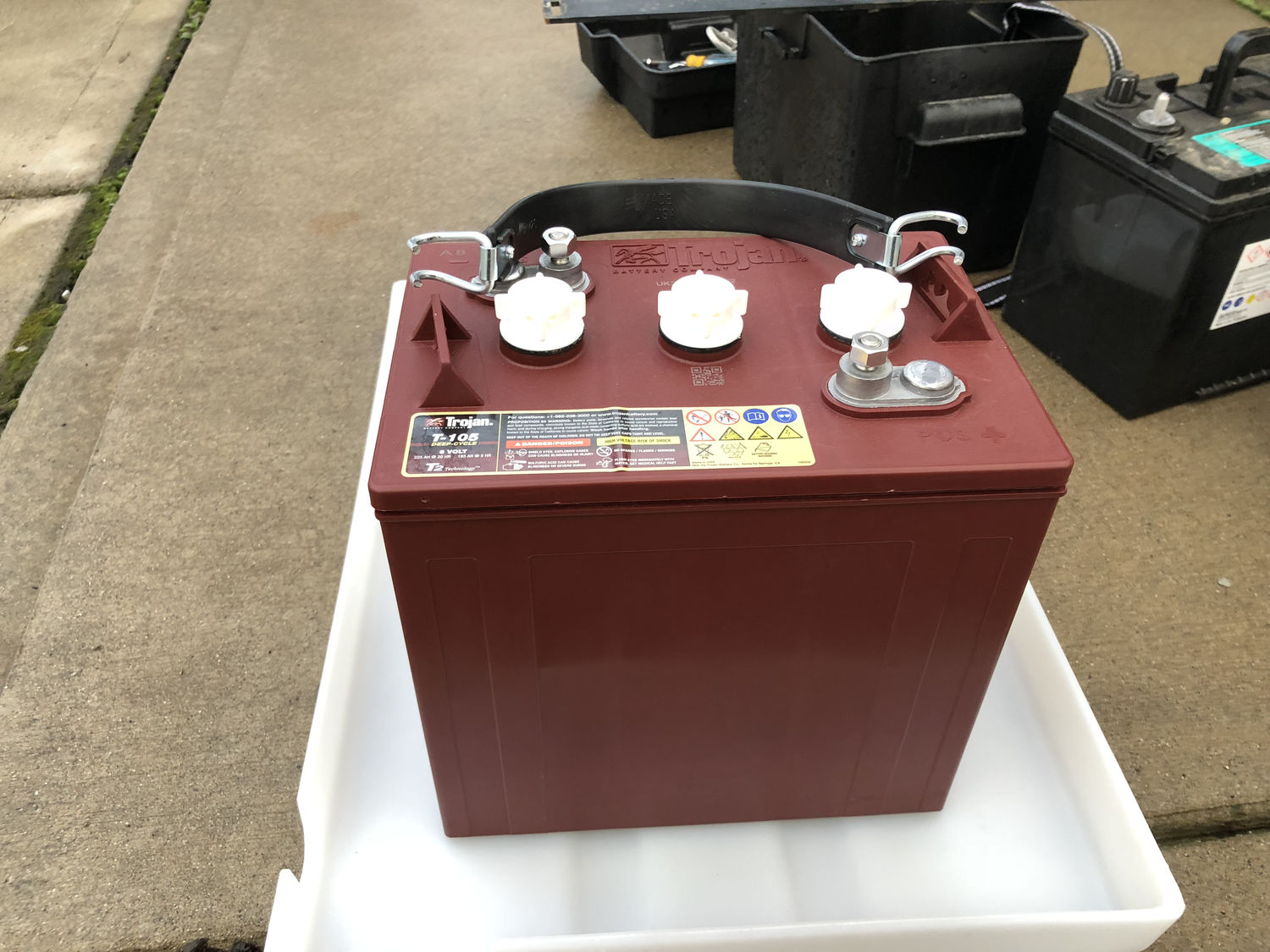 As a brief aside, these batteries are HEAVY. I have tongue weight to spare, but this easily added 150 lbs, which could be too much for smaller tow vehicles. The previous truck (Chevrolet Silverado 1500) would not have done well with it, especially since we were already at its payload limit.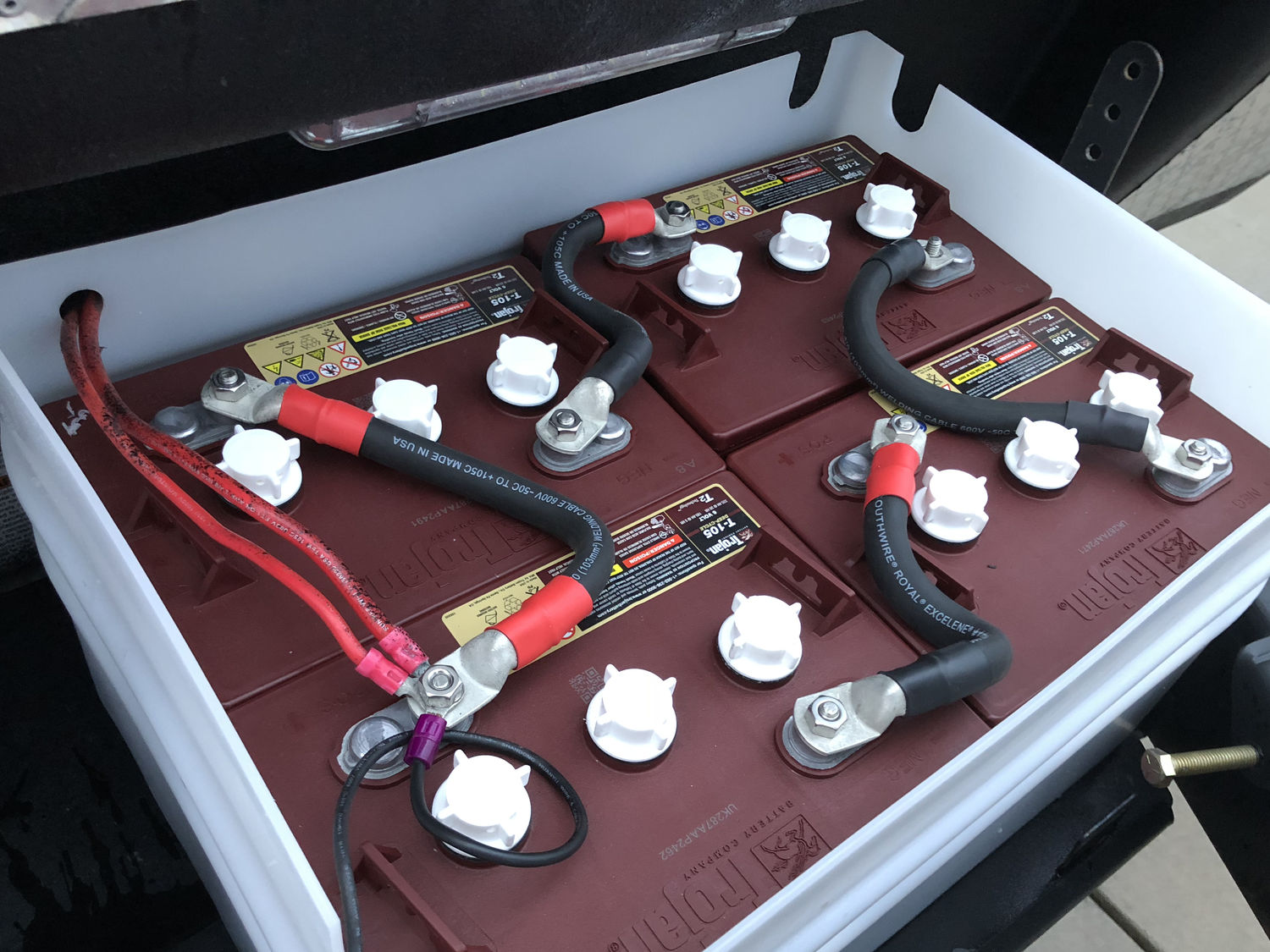 The box is made by Century Plastics and sized to hold four of these batteries, and the battery tray on the trailer is made to fit that specific box, so that's what I went with. You may also notice that the connections off the batteries are still the original factory wires (only the positive has been connected in the photo). Those will be upgraded to 4/0 AWG when the inverter goes in. Until then, they're more than enough for the current draw.
Results
In the first trip out following this upgrade, we were at Mission Ridge Ski Area near Wenatchee, WA. These batteries were able to power the furnace all night with sufficient headroom leftover despite the capacity drop due to the temperature. The dealer-supplied ones would have been frozen by morning.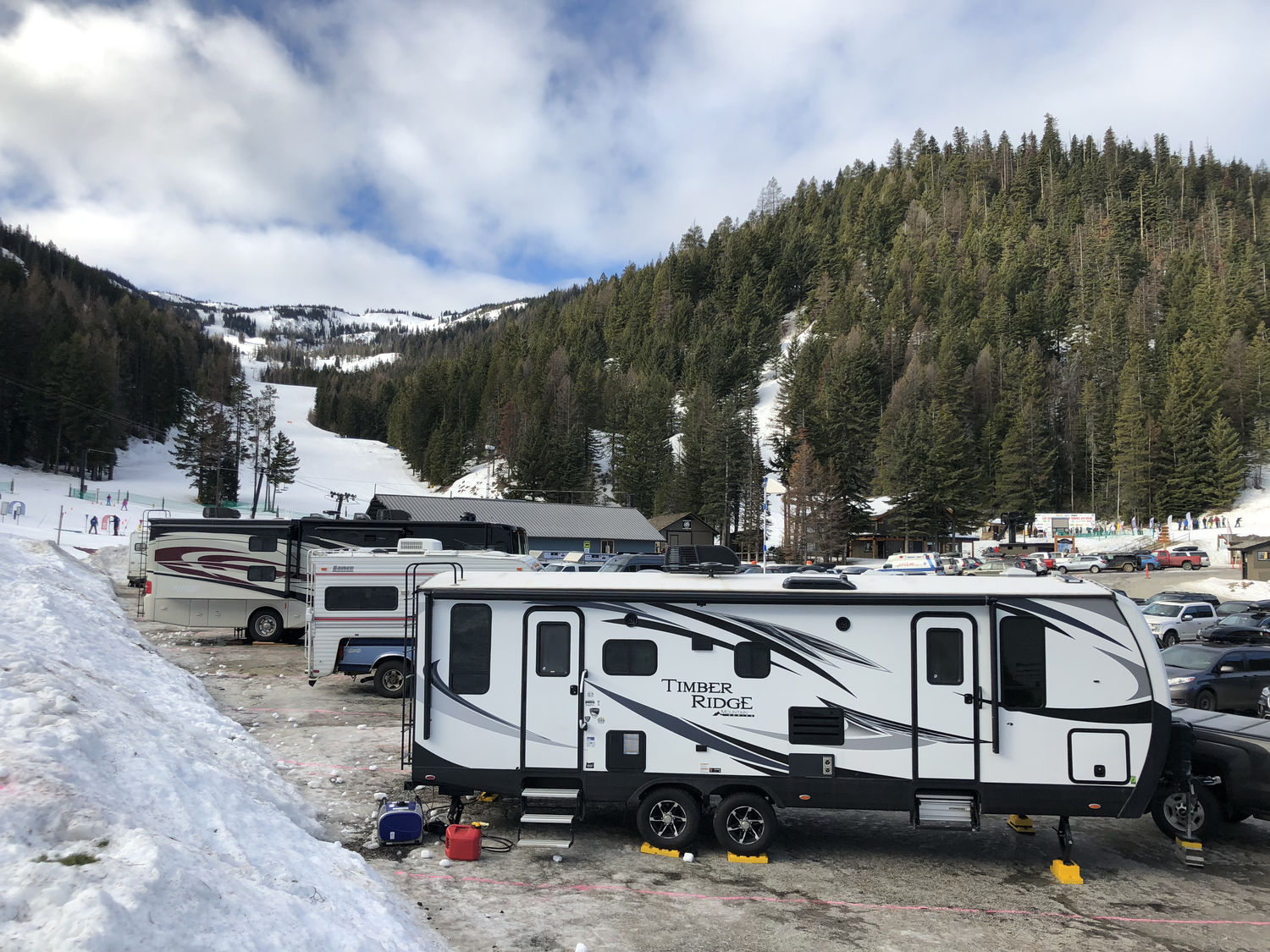 Other trips following that were much less brutal on the batteries, but I had increasing concerns with the ability of the trailer's converter to fully charge the batteries. In addition to being incapable of reaching the charge voltage Trojan recommends, it also skips a phase, causing charging to take much longer than it should. Fortunately, the inverter was going to follow shortly after and would replace that function.
---
The parasitic load is the sum of all electronic devices that cannot normally be turned off. In an RV, this includes things like the CO and LPG detectors, standby power of the stereo, and similar. ↩